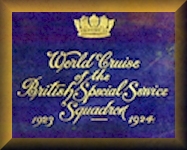 The 1923 to 1924 world cruise of the "Special Service Squadron".
HMS. Repulse

Sir Frederick Laurence Field.

Vice-Admiral commanding,

"Special Service Squadron".

HMS. Hood
The Images that make up this part of the website are scanned copies of 8"x 6" photographs taken of pages from a partially complete photograph album.
The album was originally compiled from images recorded during the world cruise of 1923 to 1924.
This was undertaken by H.M. ships Hood and Repulse and the accompanying "First Light Cruiser Squadron" consisting of H.M. ships Delhi, Dauntless, Dragon, Danae, and also H.M.A.S. cruiser "Adelaide".
Due to the fact that the individual images on each 8"x 6" page photograph only measure about 2"x 1" each, I have had to considerably enlarge each page to obtain a worthwhile view.
In order to allow these images to "download" in a fairly sensible time they have had to be relatively harshly compressed, even so they will still present a useful image on your monitor screen.
I have separated the album into 11 sections which follow the progress of the ships as they travelled around the world.
I had also suspected that there were a huge amount of photographs that were taken on this cruise, but which did not appear in this album.
I am, therefore, extremely grateful to Mr. Trevor Martin and his daughter who have kindly taken the time to "Scan" and send me some copies of pages that were missing from what I had originally found.
If you have any photo's from this, or even any other events, which you would like to have made available for all to see via this medium, then please do not hesitate to contact me via the "Contact Me" link "HERE".
Or via my sites "Homepage", accessed from the link below, so as we can, hopefully, come to some arrangement.
To view Album contents:-
--------------------------------------------------------------------
Back to Main site Homepage:-
----------------------------------------------------------------------
To view what appears to be a "Complete Album", presented by a Mr. Steve Locks, whose Grandfather, Albert Edward Scott, served aboard HMS Repulse, and whose album this was, may I suggest that you "Click" on the following two "Links".
WorldCruiseBritishSpecialServiceSquadron19234
http://worldcruise1923.1924.googlepages.com/
Steve has created a splendid record of this cruise for all to see and I am sure you will all enjoy his offering.