Ship "Index".
5). Canadians.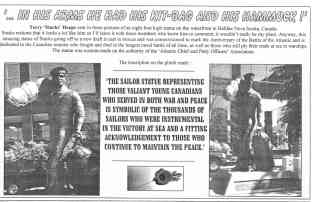 "Click" on cutting to enlarge.
This copy of a newspaper cutting courtesy of Mr. Terry "Stacks" Heaps. He has also provided several other photo's in this and other sections of my site.
Many of his photo's are of various groups of crewmembers from the many ships upon which he served.
They include the RN "Aircraft Carriers" HMS Albion, - HMS Bulwark, - HMS Eagle, - HMS Glory, - HMS Illustrious, - HMS Indomitable, amongst others.
If you wish to view these photo's they are presented in the form of a "Gallery" and can be accessed by "Clicking" on each ships name above as required.