16 Aircraft Photo's from Mr. Frank Broughtons collection,
and elsewhere .
_________________________________________________________________________________________
These photo's were taken whilst HMS Illustrious was being for "Deck Landing Trials" during the late 1940's and early 1950's.
They show a variety of aircraft being tested and, at the bottom of the collection,
I have put together a series of photo's showing what must have been an all too frequent outcome during these training periods.
With reference to the photo above querying whether the aircraft shown is a "Fairey Gannet" I can now say that it is not.
It was designed to meet the same specification, ie:- G.R.17/45, and it is one of the prototypes produced by "Blackburn".
There were quite a few variations involving either Piston engines, and being known as "B-54 / Y.A.5, 7," etc.
depending on which engine was fitted, or its suffix was B-88 if a "Gas Turbine", driving its contra rotating propellers, had been installed.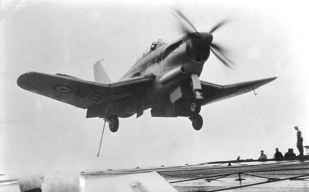 This rare image shows the Blackburn B-54 first prototype WB781 during deck landing trials which commenced in February 1950.
The Blackburn was a competitor to the Fairey Gannet anti-submarine aircraft, which eventually beat the Blackburn aircraft to the contract after competitive trials.
The B-54 was derived from the B-48 'Firecrest' strike fighter, via design studies to convert the B-48 to turboprop power.
The B-54, though, initially had to make do with a Rolls Royce Griffon piston engine, as the Napier Naiad coupled twin turboprop planned for the Blackburn design was cancelled.
The third prototype eventually flew with the same Armstrong Siddeley Double Mamba engine that the Gannet had used from the outset.
WB781 was effectively a prototype for the prototype 'definitive' B-88, the Double-Mamba powered version.
By 1957, WB781 was derelict and engineless in the scrap yard to the NW of RAE Farnborough, where it probably ended its days.
The "Fairy Gannet" was eventually selected, and went into R.N. Squadron service.
The photo above, and the text describing it, can also be found along with the majority of the photo's below, on this following "Link".
"Click" on Images to enlarge.
A very lucky escape was made by Pilot Lt. Bruce Macfarlane, of 813 Sqn embarked on HMS Albion on 13th October 1954
who had to eject from his "Wyvern" at around 80ft. underwater.
His aircraft had crashed into the sea due to engine "Flameout" on take off.
This was a common occurrence due to the high "G" forces involved when catapulting off.
He crashed in front of HMS Albion and had been overrun, and his aircraft cut in half by her.
This prompted the introduction of "Angled Flight decks", and the use of Helicopters for crash rescue
rather than the then common Destroyer.
One can be seen astern in the picture of a "Firefly" landing on above and is probably HMS Obedient.
"Click" on Images to enlarge.
Supermarine Attacker.
"Click" on Images to enlarge.
Gloster Meteor.
"Click" on Images to enlarge.
Below is a compilation of photos from the RN and Dutch Navy who were using HMS Illustrious for their "Deck Landing Trials".
As can be seen they were not always too successful, but as the saying goes, "If you can walk away from it ..............."
Is it any wonder that those people who did this back in the 40's and 50's now have "Grey Hair".
"Click" on Images to enlarge.
"Click" HERE to return to HMS Illustrious
or HERE to return to "Index 1". - Aircraft Carriers.